SUBSCRIBE TO EHN'S MUST-READ DAILY NEWSLETTER: ABOVE THE FOLD
Children
Potentially harmful chemicals found in everyday items might be adding to the country's childhood obesity epidemic, but pediatrician advocacy and consumer action can help turn the tide.
Read the Full Article on
www.medscape.com
Originals
More than 1.7 million Americans will be newly diagnosed with cancer in 2018, and 35 percent of these cases will prove fatal.
A little less than $150 billion was spent fighting cancer in 2017.
Imagine the excitement that would accompany the discovery of anything -- a new drug, therapy, diet, or lifestyle change -- that promises to cut overall cancer frequency by 5 percent.
Every year, such a discovery would spare 87,000 people this most-feared diagnosis, and reduce deaths by 30,000 and cancer-related health care costs by around $7 billion.
Such monumental benefits would justify major investments and significant policy change.
Well, not necessarily.
There is a new paper in JAMA Internal Medicine by a team of French scientists that reports a 25 percent decrease in overall cancer risk from relatively high levels of organic food consumption, compared to little or no organic food consumption, in a large, prospective epidemiological study.
Sizable reductions in prevalence were also seen for breast cancer, non-Hodgkin lymphoma (NHL), and all lymphomas. (Check out a written summary of the study methods or this 2-minute video focused on key findings).
The French scientists suspect that the reduction in pesticide dietary exposure among study participants reporting a high-level of organic food intake is the key factor driving these encouraging results. The team did all it could to control for several confounding factors.
They stressed the study's limits and the clear need for more precise measures of pesticide dietary exposures. They emphasized the need for all consumers to eat more fruits and vegetables, conventional and/or organic.
Polarized response is a sign of the times
True believers in organic food and farming systems see proof and vindication in this paper, while defenders of the pesticide-status quo are generally dismissing it, citing one or more weaknesses from a long list of widely acknowledged shortcomings in this sort of study.
Does the study prove organic food will reduce cancer rates by 25 percent? No, of course not. Epidemiology studies cannot prove cause and effect. Could the study have been improved? Yes, of course, as can any study.
But for people wondering whether to take this study's encouraging results seriously, the question that really matters is did the weaknesses of the study likely inflate the health benefits of organic food?
Weakness #1: Self-reported diets. Study participants used a validated, online form to submit detailed dietary intake data across 16 major food groups.
Yes, multiple studies report that people do not always accurately recall, or report, what they actually ate. But deviations from actual intakes across the near-70,000 people in this study were likely comparable across all participants, regardless of how frequently they reported consuming a particular type of organic food.
So, were self-reported dietary intakes a source of inaccuracy -- yes. Were they a source of major bias in results -- not likely.
Weakness #2: Self-reported organic food intake frequency across the 16 food groups. There were three responses taken into account in calculating an aggregate "organic food score" for each study participant across each of the 16 food categories: (1) Two points when a participant reported buying organic brands "most of the time", (2) One point when organic brands were "occasionally" consumed, and (3) no points for all other responses ("never" or "I don't know").
Recall that the reduction in the number of cancer cases over a four-year period post-enrollment in this study is based on comparing the quartile (i.e. 25 percent of participants) at the high-end of the distribution of organic food scores (i.e., the people who eat the most organic food), compared to the 25 percent that consumed essentially none.
A close look at the data by quartile suggests clearly that the "low-intake of organic" group reliably contained people eating essentially no organic food, while the high-intake group included all, or nearly all of the people regularly consuming organic brands across at least a few categories of the 16 foods studied.
So, regardless of some degree of over- and under-reporting of organic food intake, the comparison of new cancer cases in the high versus low-intake group amounts to a comparison of people eating some, to a lot, versus no organic food.
Weakness #3: Failure to fully take into account all confounding variables. There has never been, and will never be, an epidemiological study that meets this threshold. So, unless one is willing to dismiss the entire field of epidemiology and all insights gained from well-designed studies, dealing with confounding factors is part of the process. Major source of bias? Not likely.
The French team carried out a variety of sensitivity analyses, introducing several confounding factors into their model individually, and then in various combinations.
After adjusting as fully as possible for confounding factors, they reported their main result in the studied cohort of 70,000 French citizens -- a 25 percent reduction in the risk of being diagnosed with a new case of cancer within four years after study enrollment in the high-organic food intake group, compared to the low (and essentially no) organic food intake group.
Might the percent reduction have changed if another four years of cancer incidence data had been available? Yes, it almost certainly would. Might the differences have narrowed if people were followed until death? Again, probably yes. Might it have widened? Maybe, but not likely, because 25 percent is a large share and many other factors are known to trigger or accelerate cancer.
But are there solid reasons to expect the above weaknesses and limitations are largely responsible for the strong statistical results in this study (i.e., consistently triggered bias in one direction)? None that I know of, or have yet heard from this study's already vocal critics.
Suppose the French team had been provided unlimited funding and a magic wand, and were able to overcome all of the above limitations and weaknesses. And upon rerunning their main model, the actual reduction in overall cancer rates in the high-organic food intake group fell to only 5 percent.
Just imagine the excitement that would accompany such a finding, until of course those who just don't believe pesticides are hazardous, or that organic food is safer, start anew the predictable litany of criticisms, questions, and worse.
In closing, thanks to the 70,000 citizens who took the time to enter all the data requested by the research team. And thanks to the French team for a quality piece of work that had to take a great effort to carry out.
I hope you will continue your work in this area, with adequate funding and perhaps even a slightly magic wand.
Charles Benbrook is a Visiting Scholar in the Bloomberg School of Public Health, Johns Hopkins University, and a Visiting Professor at the University of Newcastle in the U.K.
Benbrook has served as an expert witness in several major pesticide and food-labeling related cases in which government regulatory policy has played a central role. Visit his website or contact him at charlesbenbrook@gmail.com
Keep reading...
Show less
Originals
Brent Wisner and Leah Segedie joined the Good Day L.A. crew to talk about breakfast cereal, Round Up weed killer and glyphosate: Should certain cereals be "off limits" in your household? How much of the controversy is hype and how much is fact?
Wisner is the attorney who won a $289 million award from Monsanto on behalf of a California school groundskeeper dying of cancer. A jury concluded that a weed killer made by Monsanto likely caused his disease.
Segedie is the "mommy blogger" behind Mamavation.com and author of "Green Enough," a how-to guide for parents struggling to make reasonably healthy choices amid the myriad confounding and conflicting choices and advice available (Full disclosure: EHN.org founder and chief scientist helped Segedie with the science).
Two takeaways from their conversation:
Methods for evaluating chemicals in the United States is coming up short and needs to change, and
Monsanto and the U.S. Environmental Protection Agency have too chummy a relationship, as evidenced by the legal documents Wisner unearthed in the Monsanto trial.
The full segment on Los Angeles' Fox 11 is worth a deeper listen, along with our Q&A with Segedie about her book.
Keep reading...
Show less
Toxics
The most common explanation for obesity is overeating calorie-rich foods and a sedentary lifestyle. But new studies suggest that chemicals in our environment might be another cause.
Read the Full Article on
theconversation.com
Toxics
There may be another reason it's so hard to lose weight.
Read the Full Article on
coach.nine.com.au
Toxics
Researchers suspect that taking your shoes off, getting rid of carpets and dusting can prevent chemicals building up that may affect our hormones – and our waistlines. But is it good science?
Read the Full Article on
www.theguardian.com
Originals
When you think about the causes of overweight and obesity, conditions that now affect the majority of Americans, two factors likely come to mind immediately: dreadful dietary habits and lack of exercise. This is what I call the "orthodox wisdom" that we hear all the time.
But what if I said you are wrong? Well, at least not 100 percent right. You're missing a huge influence that has been driving the obesity epidemic for the last half century, and it has nothing to do with a penchant for sitting on the couch eating potato chips and watching television. It has to do with obesogens—chemicals in our environment that promote weight gain.
No one wants to be fat, but most of us are, despite working hard to eliminate unwanted pounds. Something is wrong with this narrative.
I coined the term "obesogen" in 2006 to describe chemicals that can make you fat. This sounded the alarm and spurred a flurry of scientific research studying the phenomenon of chemical-induced obesity. My team found that a chemical we were studying for other reasons had the ability to make mice fat. That started me thinking that there might be an alternative explanation for our irrepressible fatness other than calories in versus calories out.
And I was right.
Take a moment to consider obesity from a purely logical standpoint: If weight were simply determined by calories eaten minus calories burned (more formally called the energy balance equation), don't you think we would be able to more easily manage our weight? Why can we balance our bank checkbooks, but not our caloric checkbooks?
In arithmetic, one plus one equals two no matter what language you speak. But one plus one can equal more than two when it comes to the weight equation of the human body.
"Alarming" obesity levels
Epidemiological studies in humans have revealed strong links between exposure to certain environmental chemicals and greater body mass index (BMI). The BMI is a general measure that relates your weight in kilograms to your height. BMI is often used as an indicator of obesity on one end of the spectrum, and underweight on the other.
An important 2016 study showed that average BMI today is higher than it was a little more than a generation ago, even when our caloric intake and physical activity is about the same.
Put another way, adults today find it harder to maintain the same weight than did adults 20 to 30 years ago, even at the same levels of food intake and exercise.
People are about 10 percent heavier today than were people in the 1980s, even if they eat and exercise as they did back in the heydays of leg warmers and Sony Walkmans. And despite what you hear, we probably exercise more than we did in the 1980s—not less.
The time has come to reveal the untold story of obesogens with the hope that you can take better control of your waistline, your health, and especially the wellbeing of your children and future generations. After all, nowhere is the obesity epidemic more painfully disturbing to witness and acknowledge than in our young.
In January of 2016, the World Health Organization released a statement declaring that the number of obese children worldwide today is "alarming".
I will add the words "disheartening" and "unacceptable."
Beyond eating and exercise
I don't mean to minimize poor diet and physical inactivity; these remain leading causes of overweight and obesity. But we in the scientific community are increasingly finding that exposure to chemicals in our diet and environment may be an under-recognized risk factor.
In the last decade, other researchers and I have identified dozens of chemicals that can increase susceptibility to becoming obese in animals, and trigger cultured cells to become fat cells.
The narrative about our obesity epidemic, which is now a severe public health crisis, continues to be stuck in the conversation about our modern lifestyles—too much food (especially the wrong kind) and not enough exercise. When doctors address patients who are overweight, they resort to the same old questions: "How much are you eating? How often do you exercise?"
Doctors rarely ask about what their patients may be exposed to (even unwittingly) in daily life—in their food, households, workplaces, and even in medicine cabinets. Indeed, many are hostile to the idea that chemical exposures may have effects on health.
However, there are many chemicals that you are exposed to on a daily basis (many of which will surprise you) that are connected to your body weight. Losing weight is no longer only about putting down the doughnuts and hopping on a treadmill.
Obesogens contribute to obesity by disrupting the normal development and balance of fat metabolism—how your body creates and stores fat. Obesogens can reprogram stem cells in the body to develop into more fat cells. Obesogen exposure also changes how your body responds to dietary choices and handles calories.
So even though you have bought into the latest trends—Paleo, low-carb, gluten-free, high-intensity interval training—you can still struggle mightily with weight because of what is in your environment (broadly defined).
A heritable health hazard
One of the most pernicious ramifications of obesogens is that their effects can be passed on to future generations. That's right: The effects of obesogen exposure can be heritable.
The havoc that obesogens wreak on our bodies can be passed down to our biological children, grandchildren and beyond. This is why understanding the science of obesogens and knowing how to avoid them is particularly important for women who intend to become pregnant, are already pregnant, or who have young children.
The developmental years are a sensitive period in one's life, during which the body can be more vulnerable to, and affected by chemical exposures.
Our children, grandchildren and beyond deserve to have the best possible chance to live long, healthy and lean lives without being saddled with a predisposition to the burden of obesity and its related consequences.
Reducing obesogen exposure in your life is an excellent start.
Bruce Blumberg has been conducting pioneering research in endocrinology and developmental biology for more than 30 years. He is professor in the Departments of Developmental and Cell Biology, Pharmaceutical Sciences, and Biomedical Engineering at UC Irvine. He is the author of The Obesogen Effect: Why We Eat Less and Exercise More but Still Struggle to Lose Weight.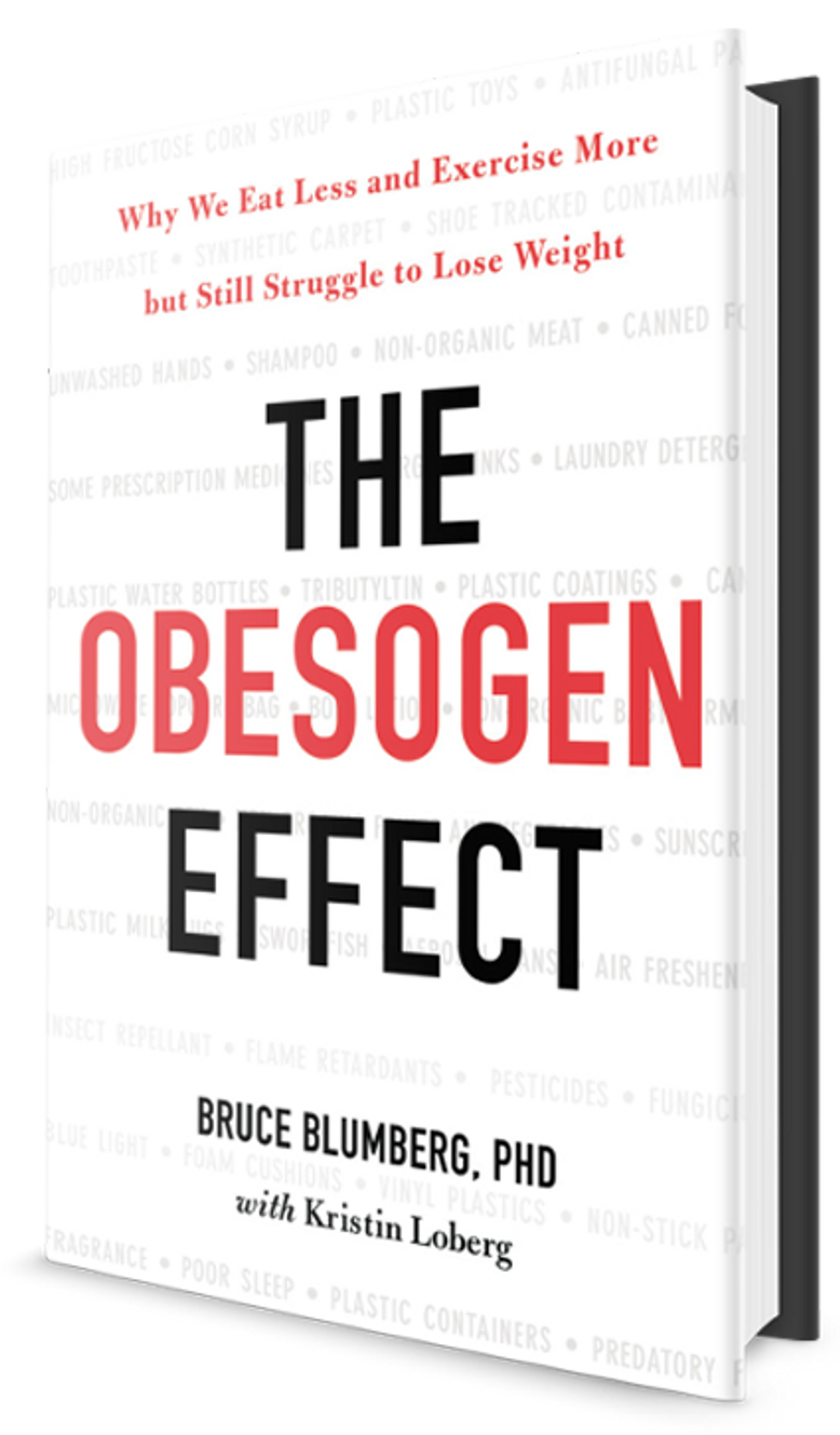 Keep reading...
Show less