Kristina Marusic
Kristina covers environmental health and justice issues in Pittsburgh and Western Pennsylvania. She has received recognition or awards from the Society of Environmental Journalists, the Association of Health Care Journalists, the Society of Professional Journalists, the National Institute of Health Care Management, the Press Club of Western Pennsylvania, the Carnegie Science Center, and the Pittsburgh-based Group Against Smog and Pollution (GASP) for her reporting on these topics.
Prior to joining EHN, Kristina covered issues related to environmental and social justice as a freelancer for a wide range of digital media outlets including Slate, Vice, Women's Health, MTV News, The Advocate, CNN, and Bustle. She is also the co-president and co-founder of the Pittsburgh chapter of the Association of LGBTQ Journalists.
She lives in Pittsburgh, where she spends much of her free time kayaking the city's iconic three rivers, consuming coffee and eating adventurously.
Reach her at kmarusic@ehn.org
PITTSBURGH—A group of local physicians, researchers, community advocates, and elected officials released a declaration today calling for action on cancer-causing pollutants in southwestern Pennsylvania.
The declaration, signed by more than 30 local organizations and 25 individuals so far, explains that rates of several kinds of cancer are "strikingly high" in the region—higher than state and national rates—with disproportionate burdens on people of color and marginalized communities. It calls on leaders across a diverse range of sectors—local businesses and elected officials, foundations and nonprofits, research institutions and health care facilities—to take concrete actions aimed at reducing people's exposure to cancer-causing chemicals in the region.
"We all know someone who has been affected by cancer, whether it's an immediate family member or a partner's cousin or a friend," Alyssa Lyon, a co-author of the declaration and director of the Black Environmental Collective, an environmental and racial equity advocacy group, told EHN. "This is an issue that permeates everyone's communities and sits right at the intersection of equity and environmental justice."
While there are local initiatives aimed at reducing smoking and promoting healthy lifestyles, the declaration's authors note other factors play a role in cancer rates. A recent study estimated that even if everyone in Allegheny County (which encompasses Pittsburgh) had quit smoking 20 years ago, lung cancer rates would only be 11 percent lower—due in part to the region's long-standing problems with carcinogenic pollution in air and water.
The group that authored the declaration, the Cancer & Environment Network of Southwestern Pennsylvania, grew out of a national symposium on cancer and the environment hosted in Pittsburgh in 2019.
"I've never experienced anything quite like what happened at the end of that symposium," Dani Wilson, executive director of Our Clubhouse, a Pittsburgh-based cancer patient support organization, told EHN. "After learning what we did, no one there wanted to just walk away."
Two years and one pandemic later, the group is calling for "bold action on a cancer prevention strategy that is often overlooked: reducing environmental chemicals that are put into our air, water, food, homes, workplaces, and products," according to the declaration.
"We want this to be transformational—not just a promise toward a better future, but an actual blueprint for a way forward," Lyon said. "If everyone does their own small part, we can collectively create big changes."
"Unnecessary" exposures to cancer-causing toxics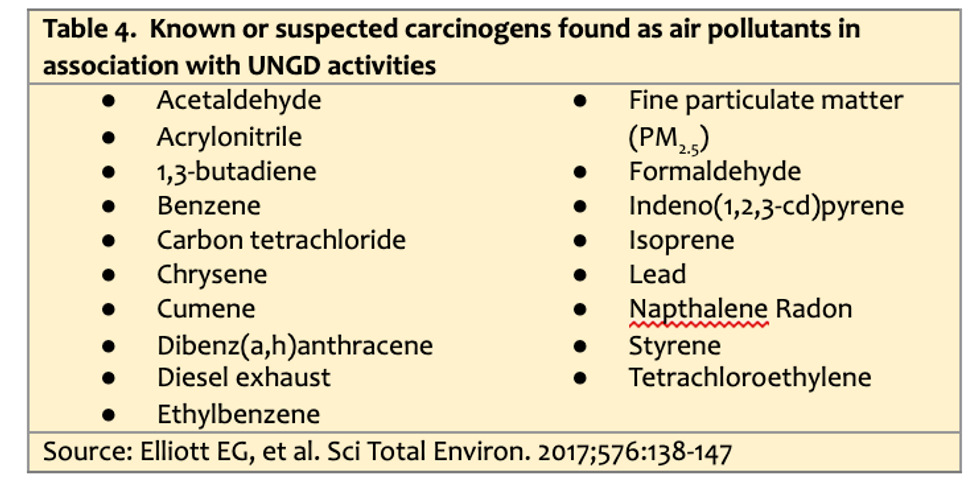 The declaration states that residents of southwestern Pennsylvania are "exposed unnecessarily to environmental carcinogens," and explains that while exposure to any one pollutant may only pose a small increased risk of cancer for an individual, widespread exposures can result in a significant rise of cancer cases in the region.
Among those exposures they list:
Air pollution, pointing to research showing that 96 percent of counties nationwide have lower cancer risks from hazardous air pollutants than Allegheny County.
Emissions from oil and gas wells, which have been shown to increase rates of childhood leukemia
Carcinogens, such as bromodichloromethane and Hexavalent chromium, in the region's drinking water
Radon, which is the second leading cause of lung cancer in the U.S. behind smoking and is ubiquitous in Pennsylvania
Carcinogens in consumer products like cosmetics, furniture, building materials, and home and garden pest control products

"These issues didn't just go away during the pandemic," Olivia Benson, chief operating officer for the Forbes Funds, a foundation that supports southwestern Pennsylvania nonprofits, told EHN. "We know these types of environmental exposures disproportionately affect marginalized people and people of color."
The Forbes Funds signed onto the declaration, but Benson signed as an individual, too. Her grandmother and an aunt who lived in southwestern Pennsylvania died "too young" as a result of breast cancer and ovarian cancer, respectively. She pointed to research showing that Black women in southwestern Pennsylvania have some of the highest mortality rates in the country.
"I can't help but wonder, if environmental justice and racial equity were centered here...would they still be here today?"
Following the science on cancer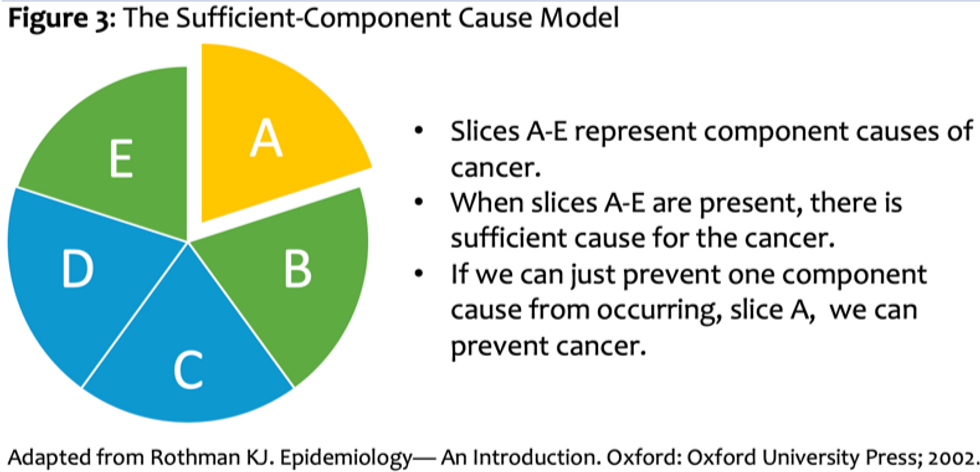 The declaration references 15 scientific studies, and the group also published a companion document with more in-depth science.
"Everything in the declaration is driven by science," Polly Hoppin, one of the researchers who helped organize the 2019 symposium on cancer and the environment that spurred the creation of the Cancer and Environment Network of Southwestern Pennsylvania, told EHN. Hoppin is a former Senior Advisor at the U.S. Department of Health and Human Services and Environmental Protection Agency and the program director at the Lowell Center for Sustainable Production at the University of Massachusetts. She also serves as a facilitator for the Network.
In the science document, the authors used data from the National Cancer Institute's cancer registry to describe national trends in cancer rates and show how locally cancer rates generally mirror national trends, but several cancer types associated with environmental exposures are higher than state and national rates.
These include elevations in lung cancer, leukemias, and thyroid cancer across multiple counties in the region (although not always in both males and females), and elevated rates of childhood cancers in Greene County, Washington County, and Westmoreland counties.
The document points to research showing that among the more than 200 air pollutants detected in emissions from oil and gas wells, nearly two dozen are considered known or suspected carcinogens (an investigation into the cause of numerous cases of rare childhood cancers in the region is ongoing).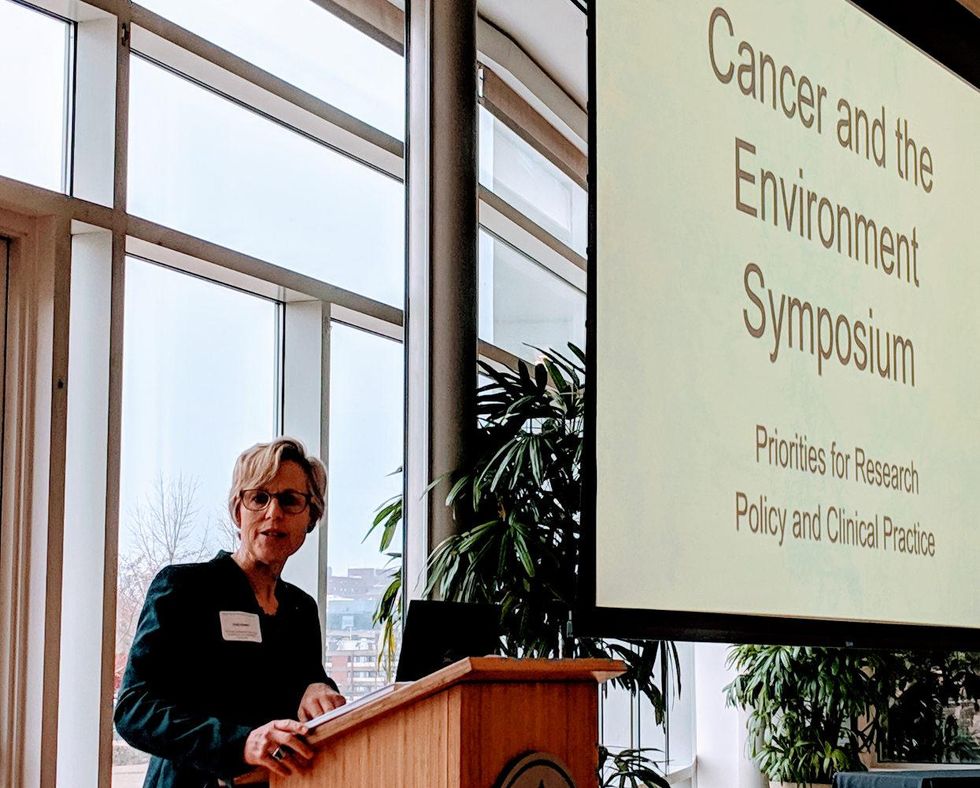 Polly Hoppin at the 2019 cancer and environment symposium. (Credit: Kristina Marusic for EHN)
The science companion document also delves into the most recent science on the ways exposure to air pollution, water pollution, pesticides, and carcinogens in consumer products can cause cancer to develop, then reviews the specific exposures happening in southwestern Pennsylvania.
For example, it references data from the U.S. Environmental Protection Agency's National Air Toxics Assessment showing that Allegheny is in the worst 4 percent of counties in the nation for cancer risk from all forms of toxic air pollution (including traffic and industrial emissions), and in the worst 1 percent of counties nationwide for cancer risk specifically from air pollution caused by industrial manufacturing—and notes that nearly 90 percent of those emissions come from U.S. Steel's Clairton Coke Works facility.
In a discussion about the region's drinking water, the science companion document points to research showing that public drinking utilities in Pittsburgh and its suburbs frequently report potentially dangerous levels of suspected carcinogens like bromodichloromethane, hexavalent chromium and chloroform. In rural parts of the state, there have been more than 300 confirmed cases of private drinking water wells being contaminated by the oil and gas industry.
Because these issues are so widespread and come from such diverse sources, Benson said, no single group can tackle the problem on their own.
"This is a problem that requires system-level change to address," she said.

Finding solutions to the pollution
The declaration lays out a series of priorities for diverse groups, including:
Speak up about exposures to carcinogens, and mobilize community institutions—including childcare centers, schools, businesses and places of worship—to take their own steps to reduce pollution and create healthy environment (for community leaders)
Protect workers and fence-line communities from exposure to toxic chemicals used and released in manufacturing by implementing state-of-the-art operations that reduce pollution and preserve resources (for businesses)
Enforce laws and regulations and issue substantial and escalating fines to companies that repeatedly violate regulations and pollute the food we eat, the air we breathe and the water we drink (for public officials)
Advocate for health care institutions—for example via procurement policies—to purchase safer products and specify healthy building materials for construction and renovation (for health care professionals)
Hold government decision makers accountable for implementing and enforcing policies that protect public health and increase reliance on safer alternatives over time (for environmental and public health advocates)
Encourage collaboration across sectors and systems approaches to catalyze change at the scale needed (for philanthropic organizations)
Prioritize research and development to meet necessary societal needs with materials, technologies and chemistries that do not contribute to cancers and other health problems (for research institutions)
The authors believe southwestern Pennsylvania is uniquely positioned to make meaningful changes to reduce local cancer rates because of the region's high volume of research institutions, healthcare facilities, and effective nonprofit organizations.
Lyon noted that Pittsburgh is among the top metropolitan areas in the U.S. for both number of charitable foundations and per capita investment by foundations.
"Pittsburgh is so small that means we all have one degree of separation from the top person at a foundation," she said. "That means we can afford to put all the right minds in a room together and figure out what equity for everyone in the city really looks like."
Banner photo: 2019 cancer and environment symposium. (Credit: Kristina Marusic for EHN)
Keep reading...
Show less
PITTSBURGH—It's been three months since EHN published Fractured, a groundbreaking investigation into the personal costs of fracking for western Pennsylvania families.
The investigation looked at air samples, water samples, and urine samples, and found that five families who live near oil and gas wells are exposed to higher-than-average levels of a long list of toxic chemicals used by the industry including benzene, toluene, and butylcyclohexane. Our study included children and found evidence that they were being exposed to harmful chemicals at levels up to 91 times as high as exposure levels seen in the average American.
Exposure to these chemicals is linked to a range of health effects including respiratory and gastrointestinal problems, skin and eye irritation, organ damage, reproductive harm, and increased cancer risk. EHN's investigation was the first study to measure exposure to these types of chemicals in people living near fracking wells in Pennsylvania.
In the months since, a group of state lawmakers have called on Pennsylvania Governor Tom Wolf to take action in response to our findings, and we've asked many other politicians to share their perspective on the study. Activist groups and readers have shared their responses to the series and let us know how they're using the data to take action.
EHN checked in with the five families who participated in the research to ask what's changed since the series came out, how they've been using the reporting to advocate for their communities, and what they hope happens next.
"It was gut-wrenching"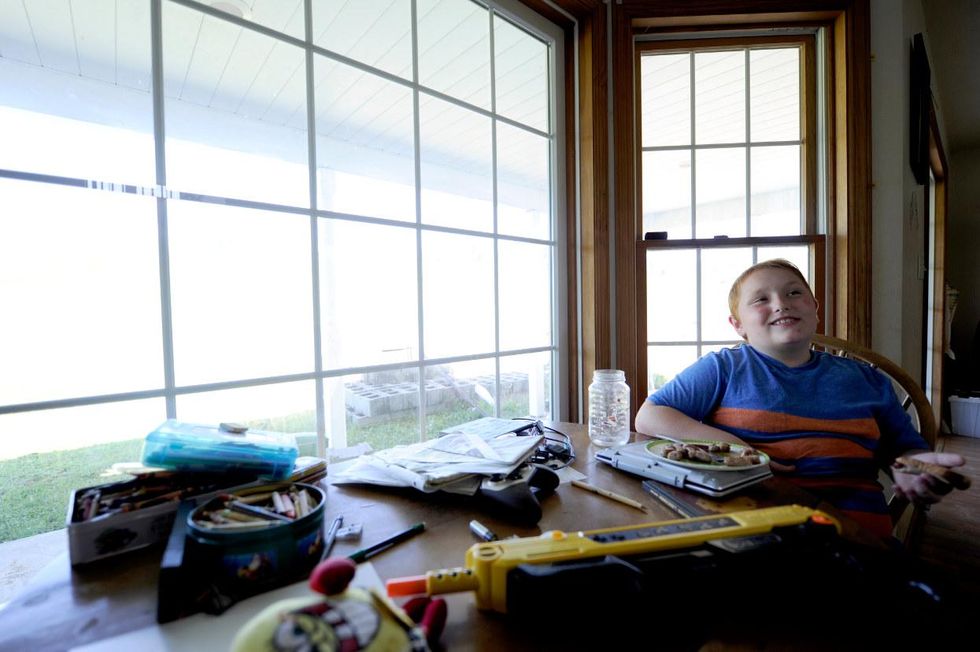 Ryan was nine years old at the time of the study, and one of his urine samples contained a biomarker for benzene at a level more than 28 times as high as that of the average adult cigarette smoker. (Credit: Connor Mulvaney for Environmental Health News)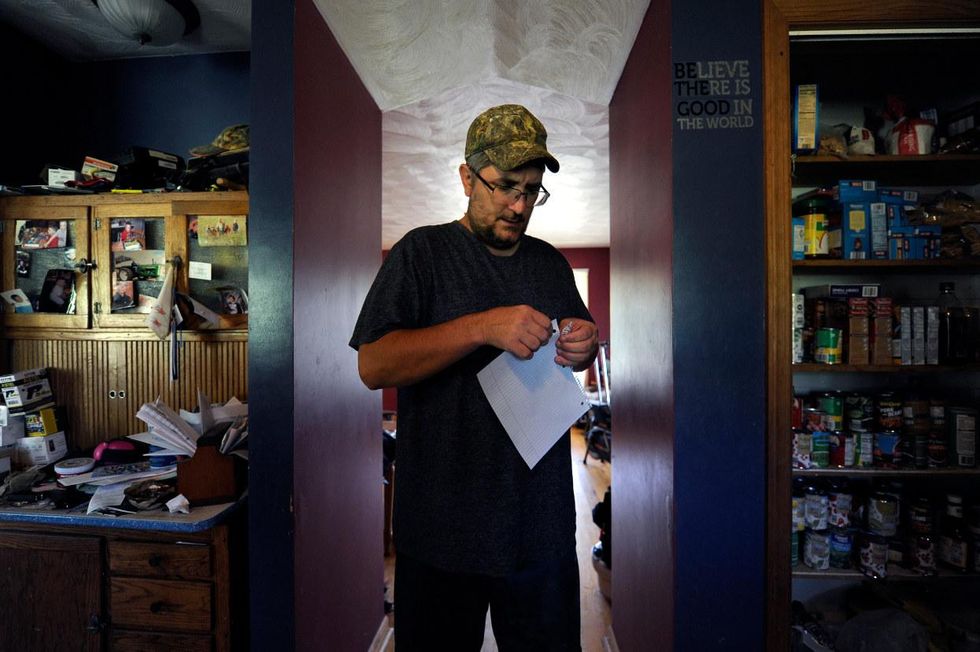 "To see Ryan at such high levels at his age, I don't even have words for it," Bryan Latkanich told EHN. (Credit: Connor Mulvaney for Environmental Health News)
EHN shared the results of our air monitoring, drinking water analysis, and urine sample analysis with the families privately prior to the publication of our stories. Still, some said seeing those test results published publicly brought up many of the same feelings they experienced looking at them privately all over again.
"It was gut-wrenching," Bryan Latkanich told EHN. "It made me sick again to see the levels of exposure that my son has been subjected to. Just absolutely sick to my stomach that they would risk my child's life and my life going after profit."
Bryan and his son Ryan used to have a fracking well 400 feet from their home and had some of the highest levels of exposure among the families in the study. Ryan was nine years old at the time of the study, and one of his urine samples contained a biomarker for benzene at a level more than 28 times as high as that of the average adult cigarette smoker. Long-term exposure to high levels of benzene in the air can cause leukemia.
"To see Ryan at such high levels at his age, I don't even have words for it," Latkanich said.
Jane Worthington, whose grandchildren also had high levels of exposure to harmful chemicals, said she had mixed feelings when the stories came out.
"It was bittersweet," Worthington told EHN. "On one hand, it can be difficult having everyone know about your family's hardships so publicly. My granddaughter is a very private person, so she had a bit of a hard time with it when people at school saw the article. On the other hand, I was so glad the series finally brought to light that we're not the only ones being impacted, that this is a serious problem across the board, and that the industry should be held accountable."

Reactions from friends and family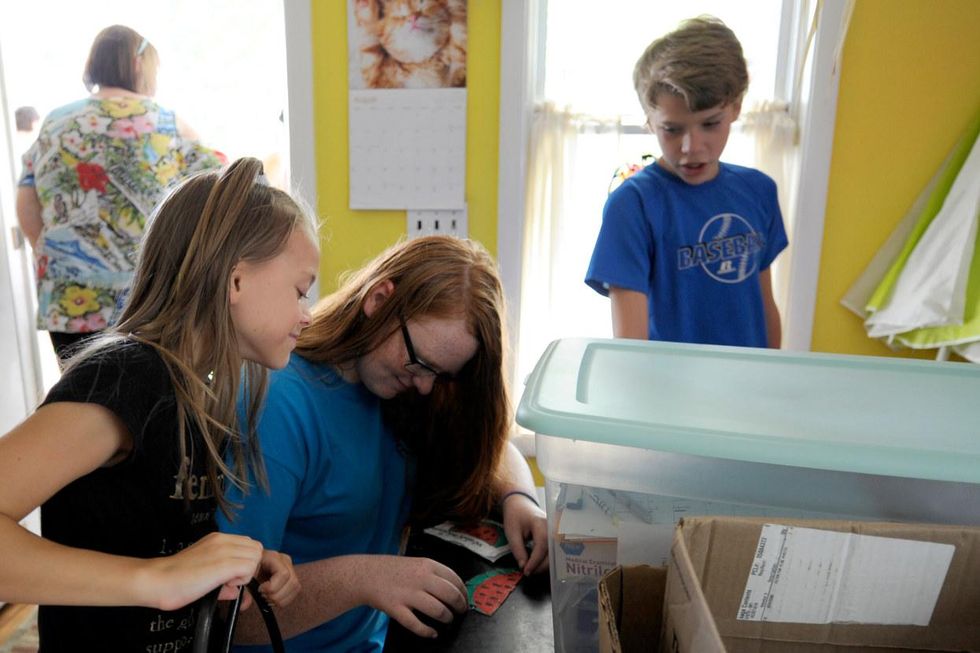 Our study included children and found evidence that they were being exposed to harmful chemicals at levels up to 91 times as high as exposure levels seen in the average American. (Credit: Connor Mulvaney for Environmental Health News)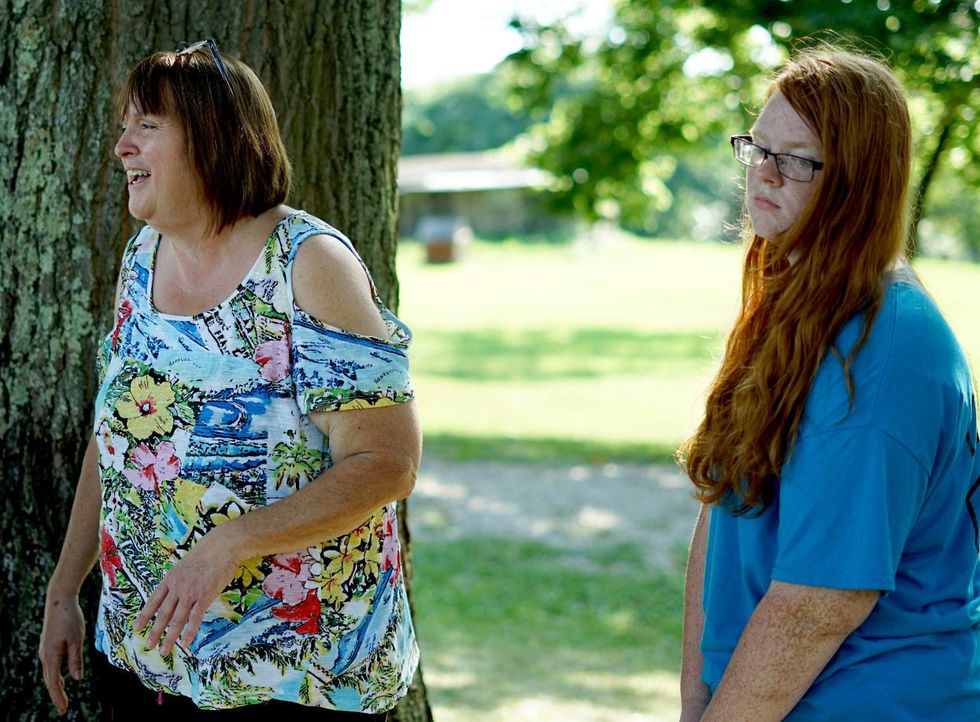 "I have some very supportive relatives and I have some that have been very critical of us for speaking out about these issues," Jane Worthington (left) told EHN. (Credit: Connor Mulvaney for Environmental Health News)
Lois Bower-Bjornson said she mostly felt relief when her family's story was published. EHN's investigation found harmful chemicals like benzene, naphthalene, and toluene in air monitoring and water samples taken from the Bower-Bjornson household, and in urine samples for Lois, her husband, and their four children.
"I was really, really glad when the series finally came out," she told EHN.
"I was surprised by the reactions I heard from some people I'd told about the study before the stories came out," she added. "It was like they didn't really hear how bad it was until they actually read the story, then they were shocked and apologetic. I heard a lot of, 'Oh my God, I'm so sorry this is happening to your family.'"
Bower-Bjornson also said she sent the series to members of her family, who reacted differently depending on their political views.
"I think the hardest part for me was that most of the family members I sent it to didn't really acknowledge it," she said. "I know darn well that some of them didn't even read the whole thing, which was disheartening. You'd expect people who are close to you to at least be willing to read your story… but all in all the responses I did get were really positive, and I didn't hear anyone say anything like, 'Oh that's not true.' People who didn't want to hear it just ignored it."
Worthington also said the reactions from some people in her family were disappointing.
"I have some very supportive relatives and I have some that have been very critical of us for speaking out about these issues," she said. "The unsupportive ones make lots of money working for the oil and gas industry and live in expensive homes and drive matching SUVs, so they're not going to change their minds. The supportive ones said, 'I'm so glad you got the story out.'"
Gillian Graber lives further away from fracking wells than the Bower-Bjornsons, the Worthingtons, or the Latkaniches, but EHN's study found that she and her family were still being exposed to harmful chemicals. Graber said she shared the stories on social media but didn't send them directly to her family members.
"I'd be interested to see what my parents think of it," she said. "I think my mom would probably be really upset, but I don't think it would change her political views. It's funny how people can compartmentalize issues...I just want to tell her, 'if you don't think things like this should be happening, you're voting for the wrong people.'"

Using "Fractured" to push for change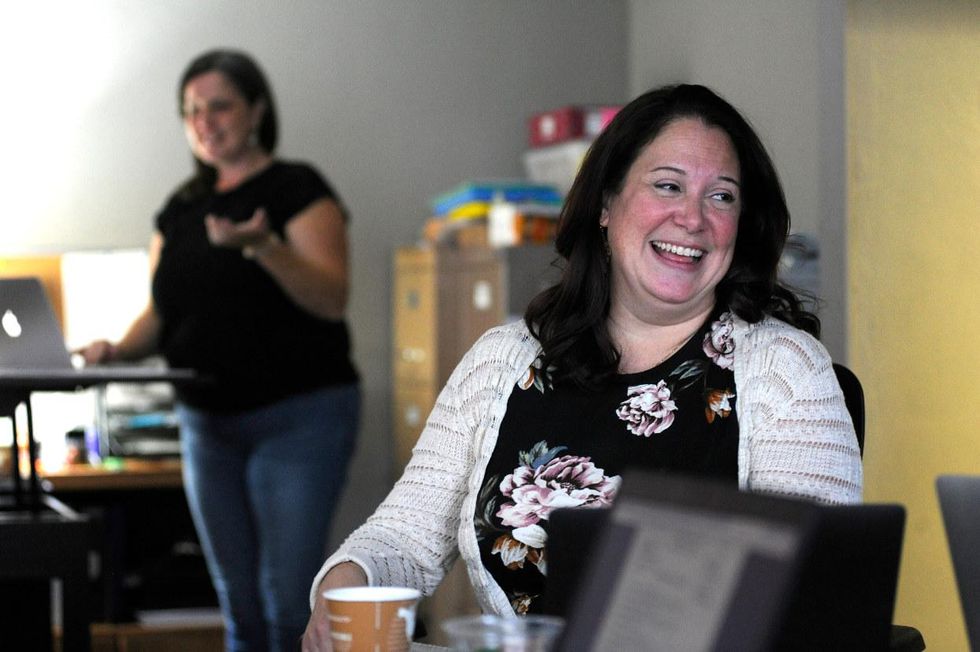 "I'd be interested to see what my parents think of it," she said. "I think my mom would probably be really upset, but I don't think it would change her political views," Gillian Graber told EHN. (Credit: Connor Mulvaney for Environmental Health News)
In the weeks after the series was published, Bower-Bjornson sent it to dozens of journalists and lawmakers.
"I sent it to pretty much every reporter, politician, and researcher I know either via text or email," she said. "What I got back from a lot of them was, 'I saw this, it's terrible that this is happening, we want to do something to follow up.'"
Her efforts directly contributed to a group of 34 state lawmakers issuing a public letter calling on Pennsylvania Governor Tom Wolf to take action to protect the health of Pennsylvanians and conduct the same type of testing done for Fractured statewide. Gov. Wolf has thus far declined to commit to any action in response to the letter, but said in a statement to EHN that his administration "stand[s] ready to assist the legislature in developing more stringent measures to protect the public, as further regulation of the industry would require approval from the federal government or state legislature."
Worthington shared the series with one of her local township supervisors who frequently votes in favor of oil and gas development, and with a local group doing advocacy work related to cases of rare childhood cancer, which some residents fear is related to fracking.
After she learned about her family's exposures and discovered that her home was surrounded by dozens of conventional oil and gas wells through EHN's study, Trafford resident Ann LeCuyer set out to determine whether any of those wells had been inspected recently. She used publicly available data from the Pennsylvania Department of Environmental Protection (DEP) to look up production and inspection reports for the 20 wells closest to her home.
"It turned out a lot of those wells hadn't been inspected in 10 or 15 years," LeCuyer told EHN. She called the DEP to request inspections be conducted for those wells. [Any idea if they are going to and/or what their response was?]
Upon request, LeCuyer said, the DEP inspected a few of the wells, but the vast majority of them remain un-inspected, which she finds frustrating. In 2019 (the last year for which inspection results have been published), the DEP conducted less than half as many inspections of conventional oil and gas wells than it did of fracking wells, but found nearly double the number of violations.
"I wish the DEP was doing a better job of that in general, and I also wish they would actively try and figure out why we're being exposed to everything we're being exposed to here."

Hopes for the future in fracking country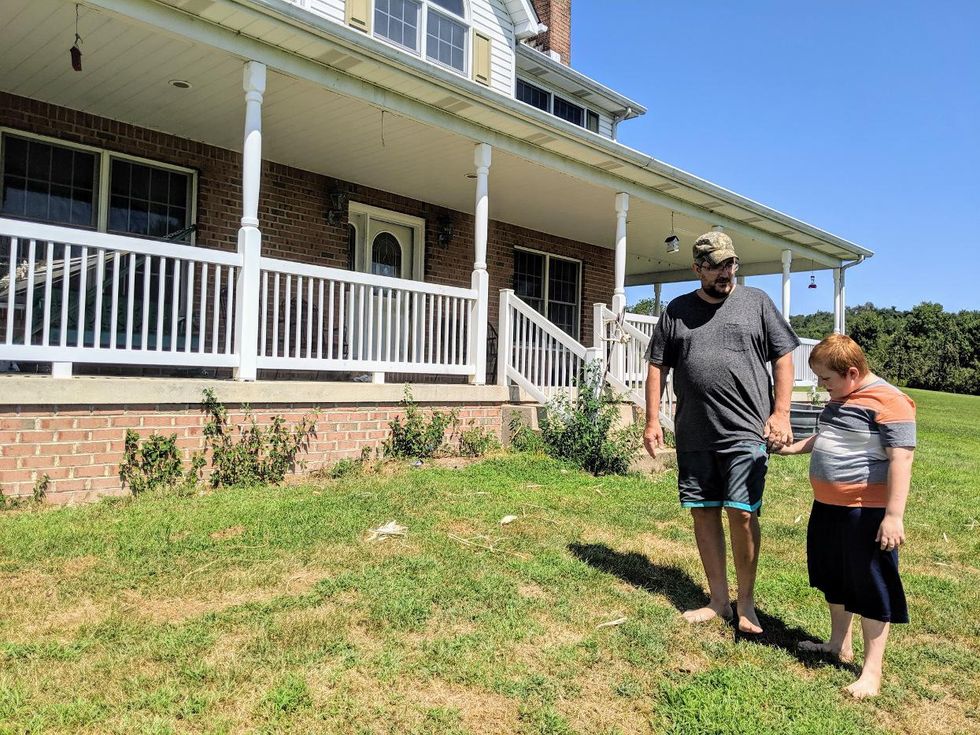 The wells on Latkanich's property have been plugged, but his home is still surrounded by other fracking wells. (Credit: Kristina Marusic for Environmental Health News)
The people who participated in the study said they remain hopeful that Fractured will pave the way for change.
"I hope that next someone will do the same kind of study on a massive scale so I can invite everybody I know into it," Bower-Bjornson said. "When I was telling people about my results I had so many people asking where they could get the same testing done. There are so many people here who are afraid their families are being exposed to harmful chemicals, and they deserve answers."
The wells on Latkanich's property have been plugged, but his home is still surrounded by other fracking wells and he still worries about air pollution and soil and water contamination.
"Hopefully we can get a new house elsewhere where we can actually drink our water, breathe our air, and plant ground that's not contaminated," he said. "That's really what we're after—to be made whole somewhere else."
"You just can't continue to ruin people's lives and not be held responsible for it," he added. "When people get sick and it can be traced back to them with enough documentation, they're going to have a problem."
Worthington said that seeing new oil and gas regulations pass at the federal level has made her hopeful.
"I hope similar changes will also spread midstream and be applied to the oil fields themselves," she said, referring to steps taken by the Biden administration aimed at giving states more power to regulate oil and gas pipelines, cancelling the Keystone XL pipeline, halting new oil and gas leases on federal lands, reversing the Trump administration's rollback on methane regulations, and eliminating subsidies for fossil fuels.

Fracking reform in Pennsylvania 
In May, Pennsylvania Senate Democrats proposed eight new bills aimed at regulating the industry more carefully and increasing transparency.
The bills would, among other things, require new fracking wells to be at least 2,500 feet from homes (up from the current setback of 500 feet) and 5,000 feet from schools and hospitals, require trucks transporting radioactive fracking waste to be labeled as hazardous, require fracking companies to disclose all of the chemicals they use, increase air and water monitoring near well pads and other infrastructure, and allow the Attorney General's office to bring criminal cases against fracking companies without a referral from another government agency (currently a referral is required).
The bills (Senate Bills 650-657) have been referred to the Pennsylvania Senate Committee on Environmental Resources and Energy for consideration, but state Democrats face an uphill battle to get them passed in the Republican-controlled House and Senate.
"I really hope that more lawmakers will see Fractured and continue to think about reform," said Graber, who serves as executive director of the environmental advocacy group ProtectPT. "I'd be really happy if they'd put me out of a job."

Keep reading...
Show less